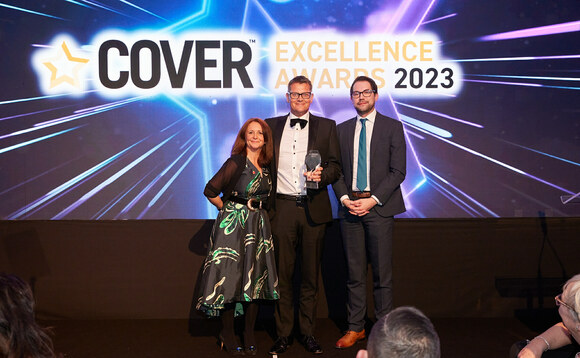 Moneysworth director Tim Boddy (centre) receives the Best Small Intermediary award from Jon Brazier, Editor of COVER, and Lucy Porter, the comedian who hosted the event
Moneysworth is thrilled to have scooped two prestigious industry awards in the space of a month.
COVER Magazine's Excellence Awards ceremony in early November saw us named as the winner in the Small Intermediary of the Year category, an award which is open to smaller companies that arrange life and health protection insurance.
At the same ceremony, we were also shortlisted for two more awards: Outstanding Client Engagement and Outstanding Specialist Intermediary.
This awards success is recognition of our fantastic advice offering and the first-class administrative support we provide all the way from initial enquiry to the point of completion. The judges have also acknowledged the quality of our specialist service where we assist applicants with medical conditions, as well as applicants who are non-UK residents, to obtain life insurance and other protection.
The success at the COVER awards comes just weeks after we landed the Health & Protection Award for Best Small Protection Advice Firm for the second year in succession. Although we have been successful at both of these ceremonies in the past, 2023 marks the first year when we have won an award from both of these organisations.
The COVER judges chose Moneysworth because of our "dedication to securing results for vulnerable clients and those that have struggled to secure cover elsewhere."
When presenting the Health & Protection award, the judges praised Moneysworth for our commitment to handling "more complex cases" and remarked that we had received "powerful testimonials" from satisfied clients. 
We were also shortlisted in the Best Individual Advice Firm category at the Health & Protection ceremony. This award category was open to insurance brokers of all sizes.
Moneysworth director Tim Boddy commented:
"We are delighted to have won this year's Cover Excellence Award for Small Protection Intermediary of the Year. It is a fantastic achievement and deserved recognition for our dedicated team, who work incredibly hard to ensure our clients receive good outcomes from insurers. This year we also won the same accolade at the Health & Protection Awards, so for the industry to honour us twice in this way really reinforces the feeling that we are getting things right!"
No client circumstances are too complex for Moneysworth and we regularly assist clients with serious medical conditions to obtain the insurance they require. We can also source appropriate life cover for clients who reside outside of the UK.
The industry experts at both awards have recognised that we offer the highest levels of advice and customer service, so if you are a consumer seeking life insurance, critical illness insurance or income protection insurance, get in touch with us today.
If you work for a financial services firm, then you can rest assured that your clients will be in safe hands if you introduce them to Moneysworth, so again, please contact us to find out more about what we can offer.