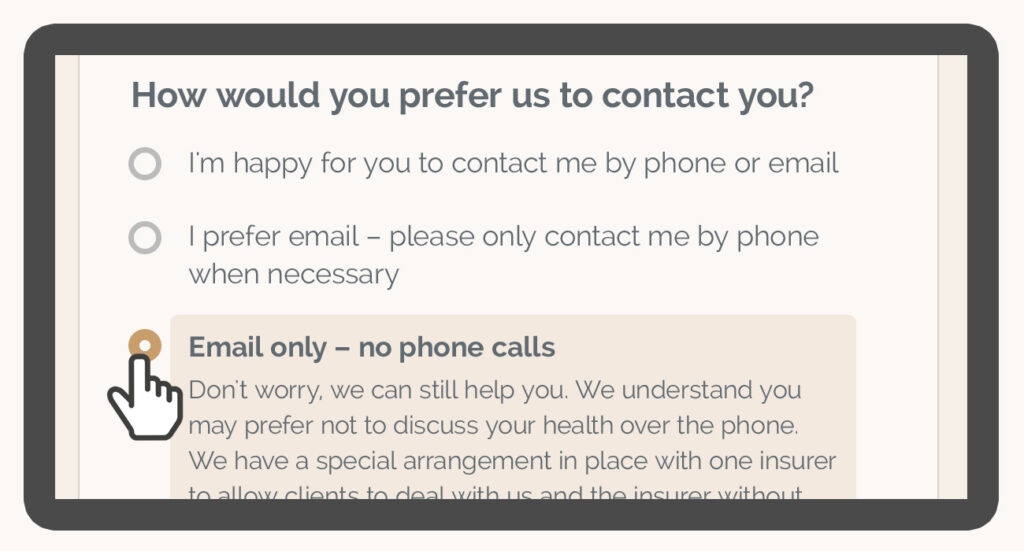 In March last year, Moneysworth was proudly involved in launching a new form of Life Insurance for people with a history of mental health problems. The new option was designed to offer a wider opportunity for obtaining cover at an affordable price, and has achieved very positive results.
During the trial period, 75% of clients who applied obtained Life Insurance. These were people who would have otherwise been declined any cover at all, or offered cover at a much higher price.
We know from our own conversations with clients in this situation that talking about mental ill health can be uncomfortable and upsetting for them. Our team always treat clients with care and sensitivity, and we're always keen to find new ways to improve how we engage with anyone who asks us to help them find cover.
Learning from the experiences of people who have struggled to obtain cover
The Mental Health UK charity recent published their "Affording Protection: Mental Health and Insurance" survey report, which reveals some interesting statistics about how the Life Insurance industry handles applicants who have mental health conditions.
The survey asked people with mental health conditions about their experiences of trying to apply for Life Insurance. The following statistics in the report underline what many clients have told us about their experiences before they come to us for help:
31% didn't think they would get cover because of their mental health problem.
Only 23% of people would feel confident about challenging an insurer if they were denied insurance all together, or if they were offered unsatisfactory cover terms.
There was one statistic in the report which particularly caught our attention:
31% believed it would be too distressing to discuss their mental health problem with an insurer
We usually prefer to talk to our clients on the phone so we can fully understand their circumstances and requirements. This helps us to ensure we can research the whole of the market to find competitive prices for the client.
But we also fully appreciate why some people don't wish to discuss their health over the phone.
Our goal is to increase access to Life Insurance for people with mental health conditions, so it's important all clients feel comfortable with the way we help them find cover.
With that in mind, we've set up a new option for clients who have a mental health condition to apply for Life Insurance without the need for any phone calls. This process has been arranged with one carefully selected insurer who is also able to deal with clients via email only.
We've modified our Get a Quote form to offer a new "Email only – no phone calls" option to people with a mental health condition. Clients who choose this new contact preference are not asked to provide a phone number, so they can be fully assured that they won't receive any phone calls from Moneysworth or the insurer.
It's important to note that, by choosing this option, Moneysworth will not able to research the whole market to establish if the policy from the insurer used for this option is the most suitable cover for the client.
We're well placed to help people with health conditions who struggle to find Life Insurance
Since Moneysworth started in 2003, our award-winning team has helped many people with mental health conditions to find suitable Life Insurance.
Andrew Wilkinson and Tim Boddy, Moneysworth's founding partners, have personal experience of some of the key issues involved. It's one of the reasons that we're so dedicated to helping each and every client find the most suitable result.