Today is Purple Tuesday, an annual awareness day which promotes improving customer experiences for people living with disabilities.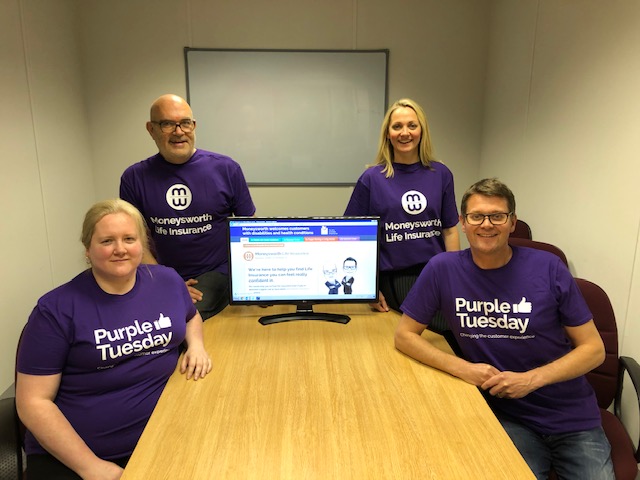 We took part in last year's event, and we're proud to be doing so again today!
Purple Tuesday was started by the aptly named Purple, an organisation which also offers accessibility consultancy, training and auditing services. We like what they do, and earlier this year we signed up to become a member so we can learn how to make our business more inclusive.
It's vital to us that our business and services are accessible to everyone.
At Moneysworth, our mission is to improve access to Life Insurance for people who have struggled to find cover they can afford or have been refused cover, usually because they've been deemed a higher risk due to an existing health condition.
For most Moneysworth clients, their first engagement with us is when they use our website.
We knew our website already had features that were built with accessibility in mind, such as fairly large font sizes, touch screen compatibility and menus that could be used with just a keyboard – but is that good enough? What other improvements should we add?
Many people take using the internet for granted, but even the most basic website functions can be much more complicated to use for people with disabilities.
How would you find your way around a website if you have visual, motor or cognitive impairments? How would you click a link, open a menu or fill in a form if you can't operate a mouse or you have difficulty seeing and reading?
When we asked ourselves these questions, we realised we didn't have all the answers. So we asked Purple to audit our website.
Their report identified a number of ways we could improve what is "already a good site", and it also identified where we could make improvements to provide an easier experience for people with visual impairments or physical disabilities.
Our web designer found optimum ways to implement these changes without radically changing the design of the Moneysworth site.
A summary of the improvements we've made to help visitors with disabilities navigate the site, find the information they require and enter their details in forms:
Small text, such as explanatory notes on form fields, is now larger;
All links, buttons and form fields can be accessed with the Tab key;
Keyboard users can skip past the navigation menus by pressing the Tab when a page loads (this is a common international standard accessibility function, which keyboard-only users expect to find on accessible websites);
A "Start of page" link/button allows keyboard users to easily scroll up to the main navigation links when they reach the end of a page;
An "Accessibility Options" is visible on all pages at all times. This activates a third party toolbar which provides a range of useful functions such as a text-to-speech audio reader, plus facilities for enlarging text and changing colours.
Going through this process has been an interesting and revealing exercise. Now that we've put these improvements in place, we'll continue to ensure we consider maximum accessibility for all users as we add new content and features to the Moneysworth website.
Accessibility improvements can be beneficial for all website users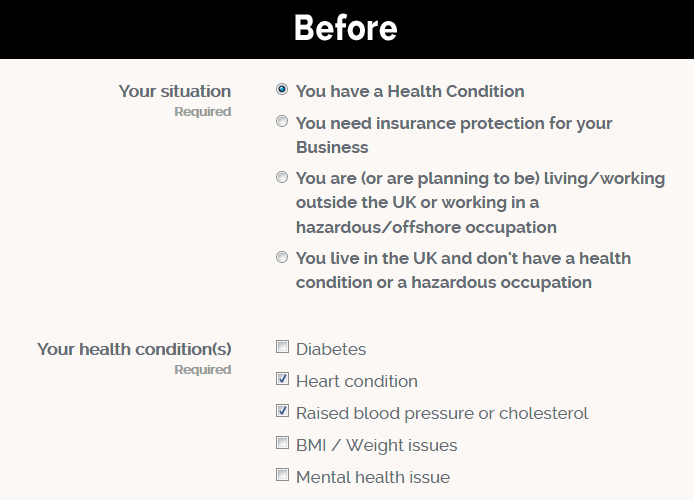 Before and after: some of the visual usability improvements we made to our 'Get a Quote' form. Better spacing, larger 'Required' labels, buttons and checkboxes that can be navigated and switched on/off with the keyboard, and a more prominent presentation of the options the user has selected.